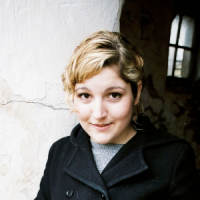 Gillian Grassie
Time: 10:00pm Day: Tuesday Doors: 9:30pm Ages: All Ages
This Event Has Ended
When Grammy-winner Marc Cohn first saw her perform, he called himself "an instant Gillian Grassie fan," observing, "it's rare to hear a young singer with such control and understated soulfulness, and even more rare to hear a harp provide such a deep percussive groove. I was immediately captivated by her sound." Traveling the world with her harp on her back and her heart on her sleeve, Gillian's compositions challenge the conventions of her instrument and showcase a knack for "turning seemingly insignificant events [...] into songs worthy of everyone's attention," (Origivation Magazine).

Her modern approach the harp, expressive vocals, and sophisticated but relatable songwriting have earned her grants from the Thomas J. Watson Foundation and the U.S. State Department, a slew of awards, and the devotion of her fans, who collectively funded her 2013 release, The Hinterhaus, with a successful kickstarter campaign that allowed her to partner with producer Todd Sickafoose (Anaïs Mitchell, Ani DiFranco, Erin McKeown) and an all-star line-up of guest musicians, including Grammy-winner Janis Ian (also a backer of the project).

Gillian graduated cum laude from Bryn Mawr College with a degree in Comparative Literature, and her songs are often inspired by literary works, pulling inspiration from authors and poets like Philip Larkin, Robert Frost, Samuel Taylor Coleridge, George Luis Borges, William Faulkner, and Francis James Child, as much as from her musical influences, which range from Joni Mitchell and Patty Griffin, to Björk, to Billie Holiday, Fats Waller, and Nat King Cole. Ultimately, it is her engaging stage presence and ability to strike the delicate balance between innovative and accessible that wins over her audiences. One fan described her as "an awesome combination of Pippi Longstocking, drinking buddy, and the Mata Hari. Trust me, you never saw anything like this."

Extensive touring has seen her playing concerts across North America, South America, Europe, and Asia over the past four years, including two tours with the ESL Folk Project at the invitation of the US State Department. Her performances have ranged from a moving train in Mumbai, to a private gala for HRH Prince Albert of Monaco, to a 17th century church in Sicily, to an opening slot for an Amanda Palmer concert held in a barn in a remote corner of Germany, to a sold out club in Siberia. She has conducted master classes for the American Harp Society in Chicago, and led songwriting workshops for The School Vor De Kunsten in The Netherlands. A Philadelphia native, Gillian currently hangs her hat in Berlin, Germany. She enjoys baking elaborate desserts and inexpertly sewing bolster pillows, and has an inordinate fondness for animals.