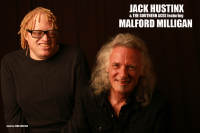 Jack Hustinx & The Southern Aces w/Malford Milligan
Time: 4:00pm Day: Sunday Doors: 3:30pm Ages: All Ages Price: $8
This Event Has Ended
Tickets available at the door.
Jack Hustinx

Jack Hustinx is a songwriter, singer, guitar-player and producer who is a prominent and respected member of the Roots & Americana scene in his native The Netherlands, Europe.

For almost 18 years he has been spending a lot of time in his second hometown Austin TX where he has built a rock-solid friendship with local musical cohorts like Malford Milligan, (the late) Stephen Bruton, Patricia Vonne & Robert LaRoche, Derek O'Brien, Harry Bodine, Sheree Smith, Glenda Dotson and many others.

In 2002 Hustinx produced, co-wrote and played on the critically acclaimed Sweet Cherry Soul album by The Malford Milligan Band. He also toured extensively with this band on both sides of the Atlantic during 2002 and 2003, including a full house show at Austin's legendary Antone's club.
The following 10 years he fronted his own band the Shiner Twins, who are considered by many as the best Roots &  Americana band in The Netherlands. The band released three successful and highly acclaimed albums that all reached either the #1 or #2 position on the Euro Americana Chart. The Shiner Twins also played numerous gigs in the local club-circuit and at all important festivals in The Netherlands and Belgium.
Early 2013 Jack Hustinx decided it was time to start writing new material with some of his amigos in Austin for a new solo-album. For more than two years he has been flying back and forth from The Netherlands to Austin, to record these new songs with his Austin friends, as well as with John Magnie and Steve Amedee, both core-members of the legendary Subdudes from New Orleans.

In between these TX studio-sessions, contributions from some of his Dutch musical friends were recorded back in the Netherlands. "It was a true trip working like this for a while, commuting like a madman between two continents and playing with all these wonderful and talented people" Hustinx said after having finished the whole project.

The result is a stunning collection of great songwriting in a melting pot of styles, all coming from the American southern states. Whether it's a classic Staxy soulballad with a twist of gospel, Fab T-Birds style R&B, country-flavored soul in the Muscle Shoals tradition, straight forward Tom Petty-ish rock'n'roll, Doug Sahm style TexMex, or some hot'n'nasty Nawlinz grooves, it's all there, sounding traditional as well as contemporary, always true to the originals, and performed with a lot of urge and respect.